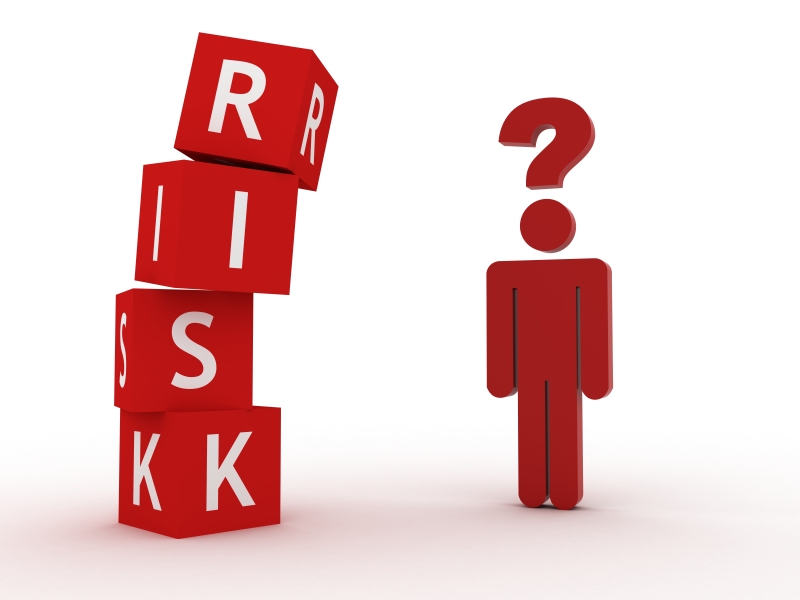 Pastors as a group are not well known for risky behavior and especially behavior that may impact their church growth.  There is an old joke about the church being about 10 years behind the curve when it comes to innovation.  Sadly, that may be closer to the truth than we are likely to admit.  In my own small circle I know of churches who are just now introducing such things as lyrics projected onto a screen during worship.  In a meeting just this last week we were talking about music, and I remarked that what we refer to as 'the new choruses' were actually published almost 25 years ago!  ("Master Chorus Book" by Ken Bible)
The concept of risk is something with which we as bivopastors should become friends.  There are a few things we should know, as a basis, though.
First, risk is risky.  Duh!  Any particular action taken may or may not succeed, and in many cases the action will fail.  This is not bad, though, if we learn from our failures.  It is only bad when we do not learn from our mistakes.  Thomas Edison is said to have tried 10,000 experiments as he was inventing his light bulb.  When asked about his failure he said, "I have not failed. I've just found 10,000 ways that won't work."
Second, just because it worked (or didn't work) somewhere else is no guarantee it will do the same thing in our context.  As stock brokers are prone to say, 'past performance is not a guarantee of future earnings'.  Seeing something working in one place, like a Willow Creek or Saddleback Church, does not guarantee it will work for you. This is probably more a problem with context than with execution.
Third, a slightly tongue in cheek definition of 'insanity' is 'doing the same thing over and over again and expecting a different result'.  One of my favorite movies is 'The Princess Bride'.  No matter how often I watch it, though, it always ends the same way.  If I expected it to end a different way as I watch it over and over again…there is something wrong!  Yet, in the church we often do the same thing over and over again and expect a different result.  I knew of a missionary years ago who boasted that they had given out 20,000 tracts on a street corner over a period of two years.  When I asked how many responses they saw, he told me that 2 people  had come into the church.  That is a response rate of .01%.  Yes, those two people are precious to God, but almost certainly the missionary would have been better off trying something new.  'We have always done it this way' is a death knell for a church.
How do we use risk to our own benefit?  We need to embrace the uncomfortable.  Yes, change is difficult, and sometimes painful.  We then decide to learn from our mistakes, rather than retreat from them or wallow in our own misery.  If we are successful, so much the better.  Never let a good failure pass you by!
Encourage your people to try new things.  Give them permission to fail!  Let them know that the trying is the important part, and you will not be mad at them for failing if they are doing something new and worthwhile.
Take a look at your current ministry, what you are doing and why you are doing it.  If it is not working or if it is requiring much effort for little in terms of results, don't be afraid to cast it aside and try something different.  Realistically a small church cannot 'do it all'.  It must pick and choose the ministries it can offer in a strategic fashion.  Those ministries it does, it must do well.  There are certain core ministries EVERY church must supply, however.  A worship service of some sort is essential, as is a missions program, an outreach or service ministry and an opportunity for prayer.  Beyond these, everything is up for grabs.  Notice I did not define what those particular 'essential' ministries look like.  These are more or less defined as missional priorities rather than a fixed format.  Worship could be home groups, a formal church setting, a live band with a worship leader in a park or a coffee house.  Outreach could be a nursing home ministry, a school Bible club, servant evangelism or collecting box tops for an Native American school.  In addition, some ministries simply have a life span.  It may be that once worked no longer does and it is time to change.  That is okay.
The one thing to keep in mind here above all else is that if you do not take some risks, the chances for growth are exceedingly low.  Failure is seldom fatal, but is merely another opportunity to learn.
' "My food," said Jesus, "is to do the will of him who sent me and to finish his work.'