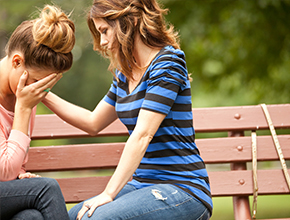 If you are like me and are being honest with yourself, there are days (sometimes MANY days!) when you wonder if what you are doing has any validity, any impact or is doing anything at all worthwhile.  As a matter of fact there are days when you might wonder if the ministry is actively harming you and making life more difficult, even to the point of harming your health and your family.  The truth is that ministry can be a brutal avocation, whether you are a bivopastor or a fully-funded pastor.  There will be days when you come out of the pulpit on Sunday morning and look desperately for the back door so you can get out unseen.  There will be days when you have to confront someone about a sinful behavior, or mediate between two warring 'pillars'.  There will be times when you are called out in the middle of the night to a deathbed.  There will be times when you and your congregation just don't seem to be on the same page, and you have to lead them into unknown and very frightening territory.
And then, there are days like yesterday.  After church my wife and I went to the local mall and in the food court encountered one of my former High School students from my days in Special Ed as a paraeducator.  She saw me from a distance, talking to her parents, and before I knew what was happening she had me in a bear hug that would have cracked a lesser man's ribs.  Fortunately I knew her well enough to expect it!  We talked for quite some time, and she introduced my wife and I to her two daughters.  The oldest is in first grade now.  My former student has been married for twelve years.  The most important things that were said were, first, she feels she would have never made it through High School if it were not for me taking the extra time with her she needed and encouraging her, and because of this she is now an advocate for her own daughter in school.    And second, she is attending a local church and reaching out to everyone she can.
What is the proof of the Holy Spirit working through you, the proof of ministry?  It is in the changed lives around you.  Seemingly small things can be tremendously impactful, while the big, flashy events we all like may make no difference at all.  Having an outreach event which brings in 500 people sounds great, while sitting with a person in a coffee shop and praying with them after they lost their job may sound mundane.  Years later we find out that the person in the coffee shop was so greatly moved by the encouragement you gave, showing God's heart to them, that they came to Christ and now their entire family is on fire for Him.  And we never heard anything else from those 500 people at the big event. The problem is we do not have God's perspective and while it may seem that sometimes we are just spinning our wheels, God is at work in the background.
Those days when you feel discouraged…look back and remember the individual lives that your ministry has touched.  The proof of your ministry lies in those lives.
"I thank my God every time I remember you.

  In all my prayers for all of you, I always pray with joy  because of your partnership in the gospel from the first day until now…"