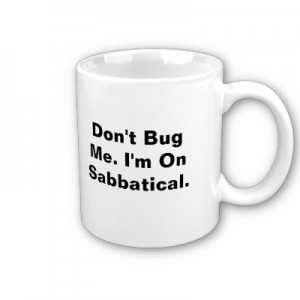 I was recently talking with someone on our District and the subject of Sabbaticals came up.  In our denomination it is suggested a pastor should take a Sabbatical once for each seven years in ministry.  So far I think I have 'earned' three Sabbaticals by that measure and have never taken one!  Why might this be, you ask?  Because being a bivocational minister means even if I take a break from ministry for a period of time I will still have to contend with a secular job and responsibilities.  The face of ministry is changing, and so is the concept of the Sabbatical. We still face some issues, though.  First, we have to contend with so-called 'ministry burnout'.  The pressure of having to manage a local church, plan and execute worship services and other programs for years on end with little or no break wears on pastors, and they find there is a need to draw away from local ministry for a time.  This can be for formal study or for a time of reflection, prayer and meditation.  Second, in our faith tradition and many others, there is a mandate for continuing education.  So how do we deal with these issues when we have a secular job to deal with in addition to ministry?
Mini-retreats over a weekend or during a mid-week break can be a help (I work at a public school, so we have some of these kinds of times).  Schedule a few days away while pulpit supply is brought in to handle your worship service if needed.  Prepare your Board ahead of time so they will know this is happening. Our District maintains a campground which includes a year-round Inn.  This is available at no charge for pastors who need to take some time away.  There are several interdenominational venues which provide pastors with the same kind of opportunity.  Seek these out and take one or two mini-retreats a year.    I knew one person who would take a few days and book into a motel off-season on the coast of Maine.  Another benefit of mini-retreats is that it allows your congregation to hear someone else speak other than you.
Look into educational opportunities delivered online.  Some of these can be very reasonable in cost and can be done with a flexible schedule.  In the Church of the Nazarene we have classes available at a pastoral discount through Nazarene Bible College, as well as other continuing education courses.  Several years ago I earned a certificate in Church Administration through our 'Continuing Lay Training' (CLT) curriculum.  These are generally meant for laymen, but it was very useful for me. All it cost was the price of the textbooks.
Being a bivocational pastor means that you might have some extra things to deal with, but it does not mean that you cannot have your needs met.  If you have to, work with your ecclesiastical superiors and clergy colleagues to come up with creative ways to keep your sanity.  You won't regret it.