A recent installment on this blog discussed the subject of 'How to be a mentor'…this one is concerned with the flip side.  As important as it is to BE a mentor to someone, it is just as important to have your own mentor.  This is the 'Paul' relationship of the 'Paul-Barnabas-Timothy' model of mentoring.  But just how do you find a mentor to begin with?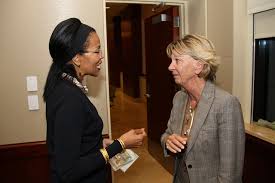 Ideally you should start people who are close to you, who you know and respect as leaders in the path you want to follow.  It is likely that your network includes people just like you but more advanced.  Church planters, for instance, often have a formal or informal relationship with other church planters in their area.  Associate Pastors are likely to be connected to Senior Pastors in their area who have been on a pastoral staff previously.
Look at your own situation and ask yourself, "Where do I want to be in five years?", and then look at who you know that might be able to help you get there.  One of my life Bible verses is 2 Corinthians 1:3-5, where Paul talks about 'the God of all comfort,  who comforts us in all our troubles, so that we can comfort those in any trouble with the comfort we ourselves receive from God'.  People who have trod the path you are walking are often the best sources of encouragement and instruction.  God has used the circumstances in their lives to prepare them to minister to others in the same situations.
You will also want to make sure that you and your mentor have personalities that get along easily.  Time is generally on your side with finding a mentor, you can afford to wait for the right person to come along at the right time.  God's timing is impeccable, but don't delay your decision when the time comes!
Examine yourself to see if you are ready for a mentoring relationship.  It can be a humbling experience when you find someone to mentor you, and they point out areas that need improvement.  You may be doing something that they themselves have already tried and found to be a mistake.  Hearing that kind of response can strike deep at our ego.
Set a time for the mentoring relationship to end, if you need to do so.  Asking a mentor for a long term relationship might be overwhelming, while asking to meet with them once a month for a year might be more warmly received.   This, of course, will depend on your circumstances. I have found myself over the years to have had four mentors.  Some of those have been long term, others were short term.  One of my mentors was my Senior Pastor while I was going through ministerial training, mentoring me formally for about four years.  Another was a fellow church planter, older, more experienced and wiser than I with whom I met once a month for a period of two years.  Another is my 'Mission Area Director', with whom I have a relatively informal relationship that has lasted for about fifteen years now.  and finally, my father-in-law, a retired minister with over forty years of ministry experience has been a primary source of guidance and encouragement over the last 30 years.
Sometimes a person who you think might make a good mentor will refuse.  Sometimes there is a good reason, sometimes not.  When we were new in the ministry my wife identified a leading 'pillar' of the church as a person who she wanted to ask to be her mentor.  This lady had held numerous posts in the local church and was highly regarded.  She had been in that church for almost forty years.  She refused the request to be my wife's mentor because she felt she didn't have enough experience and was unworthy.  This was a product of her own self-esteem issues, not really because she did not have anything to offer.  As a result my wife did not have the possibility of a good mentor for several years following that refusal.  I believe they both lost out on a blessing.
If you don't have a mentor right now, keep your eyes and heart open.  Be open to the blessings God has for you!