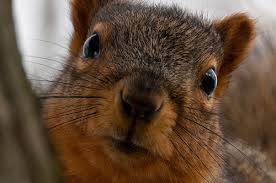 A movie a few years ago added a new word to our lexicon, or at least a new meaning for that word. "SQUIRREL!"  When I hear that word, pronounced in a certain way, an image from the movie "Up" is immediately invoked.  It is shorthand for a person who is easily distracted from the task at hand.   It is easy to be easily distracted in today's world.  We live in a visually driven culture and are surrounded by images and videos on our phones, tablets, pc's, laptops and TV's.  The old adage about, "Have you ever entered a room and forgot why you were there?" applies to the pastor entering the wilds of the internet.  I have had many times when I have gone on the internet to find a particular piece of information and noticed a half hour later that I had visited 20 different sites and forgot why I was on in the first place.  How do you avoid this?
First, when working on a project write down what you need to find.  Be as specific as possible. For example, "public domain picture of a squirrel", "illustration about tithing" or "Greek meaning of word for 'grace'".
Second, accomplish everything you can possibly do without going online.  Doing this will give you a headstart in your work.  Even if you only manage to put down an outline you will find this helps progress enormously.
Third, set a time limit for yourself.  This will serve to keep you focused and goal driven.  If need be, set an alarm with a countdown timer.  there are many variations of these you can get for free at Google Play or the Apple Store for phones.
Fourth, find a quiet space where people can still see you.  This will keep you accountable, but still in a place where you can work.  You can also ask your spouse or a ministry partner to check on you occasionally.
Being in a high pressure position like bivocational ministry means that you have to use your time wisely.  Distractions can be a killer.  So keep your eye on the <SQUIRREL!!!!>
"I press on toward the goal to win the prize for which God has called me heavenward in Christ Jesus."