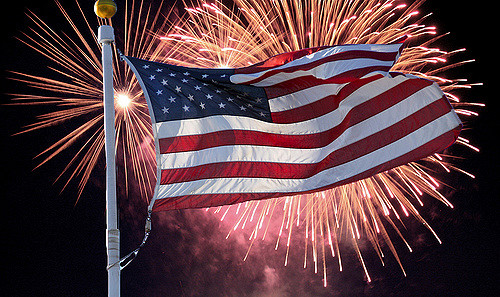 My ministry context happens to be in the United States, and one thing we truly love in the USA are our holidays.  Especially the big, flashy ones.  And even more, the patriotic ones.  It was not always so; I remember growing up on a military base during the Vietnam era that Independence Day, Memorial Day and Veterans Day were holidays many did not celebrate quite so vehemently because of the anti-war environment at the time.  But today's highly nationalistic climate has engendered the exact opposite.  How do we in the church deal with these holidays?  Is it right to have an American flag on the front stage of the church?  Is it right to sing songs that are strictly patriotic during the service?  How about the congregation saying the Pledge of Allegiance during worship?  This can be a heated topic among preachers, and with laypersons as well.
First, it is important for us to remember a worship service is there to enable us to get closer to God in a corporate setting.  Period. <drop mic>.  Anything that takes away from that purpose should be closely scrutinized and potentially discarded.
Second, we should remember that our citizenship is not of this earth, first and foremost.  We have dual citizenship; we are are citizens of the Kingdom of Heaven, and citizens of the USA.  this is what got so many people in trouble in the early church.  They refused to give allegiance to Caesar as a God, recognizing him as an earthly ruler and therefore subject to Jehovah.  Many people died while expressing that simple thought.
Third, not all people we will be hosting in our services may be US citizens.  I recently sat in a worship service on Memorial Day and the veterans were asked to stand, and then we all recited the Pledge of Allegiance.  Right next to me was a man who was indeed a military veteran, but of the Canadian armed forces.  As pastors we need to recognize this possibility.
Is it possible to reconcile these facts and incorporate expressions of patriotism in our services?  I think it is, as long as we put some thought into it.  We might, for instance, have a section of the service either before or after the worship that we dedicate to this purpose.  I usually use the first moments up front to do greetings and announcements, then a call to worship.  The announcement time is ideal for recognizing the holiday.  Sermons can use themes such as "Freedom in Christ", 'Faith of our Fathers", "Courage in the face of adversity" and "Reliance on God" to dovetail with the holiday celebration.  Decorations in the sanctuary can be a problem area, but a little thought can help these as well.  Some congregations will only allow the Christian flag on the stage, and that is a choice the congregation must make; while not allowing national displays the church should note that this is not a sign denigrating veterans, but rather looking to God first.
The important thing here is to make a well thought out decision regarding your stance on the issues involved.  Let God provide the direction and work out the details.  He is King, and He will never steer you wrong if you listen to Him.
"But our citizenship is in heaven, and we eagerly await a Savior from there, the Lord Jesus Christ"