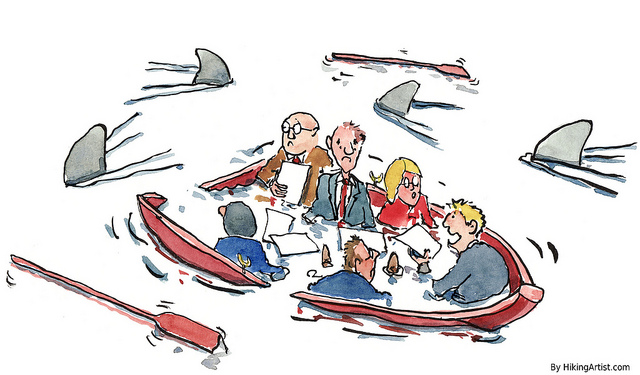 Bivo pastors in a small church know how much a small change in attendance can help…or hurt…the health of the church.  Good statistics are definitely not the end goal of a pastor, but they do tell stories.  A few years ago my wife and I moved to Vermont to plant a new church.  We had a storefront where we worshipped.  The church did pretty well, and was consistently running in the black financially.  We had the largest teen youth group in town, despite the fact that many churches had been there much longer than we had.  But in the last two years we saw several crises hit the church.  We had to move to another facility which was not as suitable as our first.  A family that had been supporting us consistently moved out of state.  Another left because they decided a church plant was not for them and they 'needed better music'.  What had been a thriving ministry became a struggling ministry.  The bottom fell out.  Eventually we closed the work and moved on after making sure everyone in the group had a place to go.  Our last Sunday we had four people besides my wife and I.
No doubt about it, when a small church loses even a small number of people the ministry can be devastated.  For a church of 200 people, losing 10 can be painful.  For a church of 20 or 30, 10 people leaving might completely wreck the boat.  So, what do you do when the bottom falls out?  How do you handle it?
Most bivo pastors would say that numbers are not what drives us to do what we do.  Yet when the numbers dwindle like this, or even lead to a closure, our egos take a hit.  It hurts.  We regard it not only as a ministry failure, but a personal failure.  There is going to be a time of grieving.  We grieve for what we have lost, and for what might have been.  We ponder and think about what we might have done to stem the tide.  We blame ourselves for the failure.  One of the first things you need to do is realise that this is normal.  we need to make time and space to let ourselves heal.  Find a group of encouraging people with whom you can share your struggles and hurts.  Do not be too quick to go back into a ministry position.  Sit back, take time to think and pray.
If your ministry still exists, but is failing, it is time to ask what went wrong and ask God to show you a way forward.  It may be that the ministry needs to have a  new leader.  Yes, you might need to step aside.  Or perhaps you need to refocus on the important things.  Rick Warren in his book "Purpose Driven Church" says that surfers go out to seek the perfect wave.  They don't try to MAKE the wave, they find where it already is and then ride it.  As pastors we sometimes find we are spending more time trying to MAKE a wave of the Spirit than SEEKING where He is working.  How many times have you seen a church with no children trying to put a children's ministry together?  What is your church doing right?  What is your church doing wrong or failing at?  What is there in your church that cannot be duplicated by any other in your area?  Start there and work outward.
Perhaps the next part of the process is to recognize the difference between our ministry and our calling.  The fact that a particular ministry did not go well does not mean that your calling has disappeared.  God called you into ministry, and He will walk with you through the dark parts as well as the light.  Hold on to the fact that God has a special mission and purpose for you.
Most importantly, get as near to God as you can.  Let Him show you His peace.  Let Him guide you.  Read the Bible and pray.  As you get closer to Him, things will become clearer.  Let His blessings wash over you.
"Even though I walk




    

through the darkest valley,




I will fear no evil,




    

for you are with me;




your rod and your staff,




    

they comfort me."