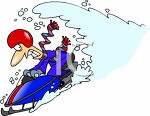 One of my favorite stores locally is closing.  Eastern Mountain Sports is a great place to buy the articles I need every so often for hiking and other outdoor activities.  More and more I find myself going to online sources, but not due to choice.  I would rather walk in to a place like EMS and talk to the experts, keeping my money local as a bonus.  One of the great things about a place like EMS are the courses they offer.  Outdoor medicine, cooking, planning for hikes, even how to survive an avalanche.
Thinking about it, I wish that the church offered courses like this.  Recently I could have used a course in how to survive a spiritual avalanche!  In one two month period our new format at the church failed miserably, my father-in-law underwent colon surgery, my wife started working overtime (meaning many 2:30am alarms), our foster daughter who was with us for a year transitioned to a new home and my step-mother passed away.  Needless to say our lives seemed to be in free-fall mode.  We were caught in an avalanche of events.  So, how do you survive those kinds of times?
The key word here is 'survive'.  No one prospers during these times.  I think sometimes we kid ourselves into thinking that if we are not energetic and growing that we are not successful.  Sometimes 'success' is defined by survival.  So the first thing is to get that expectation out of your sights.  How do you survive, then?
Lean on your friends, your congregation, your family.  They have all likely been there, too, and can empathize with you.  Moreover, 2 Cor 1:3-5 seems to say  not only are we being trained to help others through the trials we come through, but OTHERS in our lives have been there and are ready to minister to you!  Let them.  This is a hard lesson for those of us who have that John-Wayne-Western-Frontier-Self-Reliant-I-Don't-Need-Help attitude.  Many pastors in particular have this sort of attitude.  It is ingrained in us, trained into us, by a tradition of ministry which says 'I am the minister, I can't show weakness to my flock'.  In reality this is self-defeating.  The example you are showing people is unlivable.  Instead, show your flock you are human, and you are going through the same things they are.
The other side of the coin is the scripture and admonition that 'it is more blessed to give than to receive' (Acts 20:35).  By refusing to allow someone to minister to you you will deprive them of a blessing.  As ministers are we not to bless our people?
Take time to retreat when possible.  Go off and pray, meditate on the Scriptures.   Seek God's wisdom and perspective.  Jesus did this when He was under pressure.  If Jesus did it, what makes us think we should not?  Rest, recuperation and rejuvenation are important in these times.  One of the consequences of this may be, and probably should be, a paring of your own responsibilities down to the basics.  You should only be concerned with the important matters.  During times when we have nothing going on to stress us we tend to pick up an overload of ministry responsibilities.  We may function as head of Women's/Men's Ministries, teach Sunday School, preach on Sunday, head up the Nursing Home Ministry and do home and hospital visitation.  In times of stress it may prove necessary to remove some of those responsibilities from your schedule.  Letting someone else take over may prove to be an unexpected blessing for them!
Go do something fun.  Take your husband/wife and go bowling.  Go to the beach.  Go out to dinner or a movie.  Do something to be with the people you love and remind yourself that the world is not all caving in around your head.  You will be surprised how much energy this can bring back into your life.
And finally, keep a perspective on what is happening.  Realize that the rain falls on the good and the wicked.  It will all end in due course.  Where there is a valley there are  two mountains!  God will bring you through the valley and into the sun once again.  Trust in God and survive the avalanche.