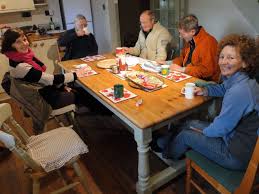 One of the guiding principles of this website and ministry is that pastors, and bivocational pastors in particular, are in desperate need of contact with others in the same circumstances. Lack of contact can breed bad attitudes, feelings of isolation and abandonment and feed depression.
My District Superintendent, Rev. Ken Stanford, in his latest letter through our District newsletter said it this way: "Among the many thoughts that came to my mind, there is one that I want to briefly highlight, and that is the need and joy of connecting together. Many times we become so engaged in ministry, mission, leadership, and the numerous other activities and responsibilities of pastoral ministry that we find it easy to miss or neglect connecting with one another, if for any reason to just connect together. At the risk of "over-spiritualizing," it is absolutely crucial for us to connect together and I believe that the enemy of our souls would love to keep us focused on the busyness of ministry while giving us the "pat on the back" of a sense of worth, at the expense of spending time with one another."  (Link)  
Amen, Rev. Stanford, amen! Let's not give the Enemy the chance to get a toehold. Let's instead engage in the business of the Kingdom shoulder to shoulder with our brothers and sisters in Christ!