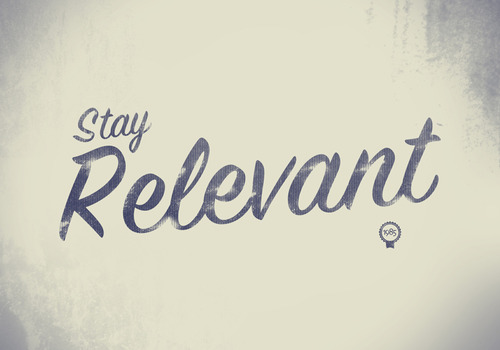 So many words in the Christian lexicon are important, but many of them are meaningless outside of the Church.  We have a language of our own and although useful for communication between ourselves they are not useful when communicating with people not in the church.  Communication is always a two-way process, and if we are not speaking to people in a way they understand then there is no real communication.  So much of it comes down to one simple word in our glossary…'relevance'.  According to Merriam-Webster Dictionary 'Relevant' has the following definition: "a :  having significant and demonstrable bearing on the matter at hand  b :  affording evidence tending to prove or disprove the matter at issue or under discussion relevant testimony  c :  having social relevance".  In order to meet any of these meanings it is necessary for communication to take place.
How do we as pastors make ourselves relevant?  The first step is to examine our language and see if people can understand what we are saying without using cryptic language.  John Wesley tried hard to achieve this very goal. "I design plain truth for plain people. I labor to avoid all words which are not easy to be understood, all which are not used in common life."   This was part of the great character of the man in his preaching style.  If the least educated person in your congregation cannot understand what you have said, then you need to go back and rework your sermons so that they do understand.
Different people have different learning styles as well.  Some of your listeners may be stirred by your words, others by the images you convey, still others may write notes on your sermon to review later.  Some others may learn from the visual cues or resources you use.  Endeavor to provide all learning styles with something they can take away.
Keep your sermons simple.  Boil them down into one sentence or one thought.  Don't try to cover the entirety of the Gospel message in one sermon.  As "Gold Five" said to "Gold Leader" in Star Wars, "Stay on target!".
Always provide an action item or a challenge at the end of the sermon.  If people can take away something and then you tell them what they can do with the teaching in a practical sense, then they don't have to try to read between the lines and potentially never get started.  For instance, after one sermon on evangelism I introduced a concept called 'Use It and Lose It!", in which I gave everyone present three pens with our name and address on them.  They were instructed simply to use the pens during the week at a restaurant, bank, work or some other place and then to leave them behind.  They were then to pray about the pens and those who might use them.  No confrontation, no memorizing of scripture, no fancy debate techniques.  By the next week all the pens we had given out had been used and prayed for…and people were asking for more.  Some people came back with wonderful stories spurred by this simple action.
And perhaps the most important item of all, spend time yourself getting to know what the social trends are within your community and setting.  Jesus knew the news of his time ("…Or those eighteen who died when the tower in Siloam fell on them—do you think they were more guilty than all the others living in Jerusalem?" Lk 13:4 NIV) and used it to connect with people.  Know what TV shows and movies are being watched.  Know what music is being listened to.  Know what political views are being expressed and which sports teams are adored (or reviled).  Simply knowing these things and being able to speak about them will create connection points for you.
Being relevant is important, and it is really simpler than you might imagine.
…