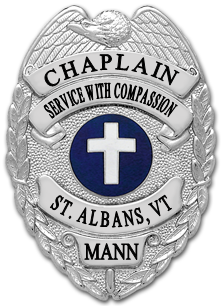 Since starting my work as a Police Chaplain there has been a phrase that seems to recur frequently, and which sums up well what we do as chaplains. That phrase is, "A Ministry of Presence".  Reflecting on this phrase, however, brings home the realization that a 'ministry of presence' applies to not only a police chaplain or any other chaplaincy, but the ministry of the bivopastor and to all believers, in general.  Every believer can have a 'ministry of presence', if they keep a few guidelines in mind.
Make yourself available.  Unless you are actually available, people will not come to you.  Pure and simple.
People need to

know

you are available.  Unless they know you are there and available they will not come to you. You don't need to hang out a sign or a shingle, but simply be open.  Over time people will know that you care and are available.
Be ready to listen, more than talk.  People often need someone to talk to, many times they don't want anything more than this.  That is OK.
Let God work in the background.  It is often said that God works in mysterious ways.  This is true, and He works effectively!  But we must let Him do His work and not try to change things by our own efforts. Your goal here is to bring God's comfort to someone and perhaps be one of the persons in the chain to lead them to Christ.  But that is not your immediate goal.
Don't judge the person you are talking to.  Their life may be sinful, their habits dirty and their attitude terrible, but you need to let God do His work without judging the person based on appearances.  They are loved by God, and that is enough to know.
Have resources ready.  Do I really need to say this? Have a Bible, a New Testament or at least a Gospel of John handy at all times. An index card in your wallet with names and phone numbers for resources you think might be needed may be enough beyond that.  Remember, it is alright to let people know where you are coming from theologically, and to know that no one is going to require you to practice outside your faith tradition.  It would be disingenuous to ask a Christian, for instance, to pray to the god of the Muslims or to Buddha. In my work as a Police Chaplain I am identified as not only a Chaplain by my uniform and name tag, but wear crosses as collar insignia, identifying me as a Christian, though I minister to everyone equally within those bounds.
Cover it all in prayer.  This is the most important part.  Without prayer it will at the very least not be as effective as it could be.  At worst, your ministry will be dead in the water.  BE ready to pray with the person who comes to you, but ask their permission first.
These are all things any person can do.  They do not require extensive Bible knowledge or specialized evangelism training.  You don't have to be a mental health counselor.  You just have to be there.