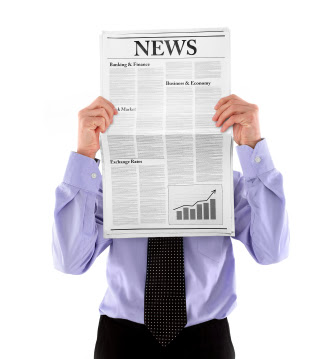 Staying current on world and local events is a mandatory activity for pastors.  In the life of the bivopastor it comes a little more easily, since you are 'out in the world' more than someone who is tied to an office.  On the other hand a fully-funded pastor can be more intentional about the process.  Either way, it has to be done.  How can a bivopastor make sure they are up to date?
Set a time daily for a quick update on news and events.  It can be listening to the radio on the way to work or reading a trusted website on your phone at lunch.
Talk with the people around you to get an idea of what they consider important.
Subscribe to a newspaper, either a major daily like the "New York Times" or a local paper like the "St. Albans Messenger" in my locality.
Aim for a broad view.  Don't just focus in one area, get an overview that covers many types and kinds of events.
Don't read the comments on websites.  Most are useless and reactionary and will only serve to raise your blood pressure.
Mix in a foreign news source every so often to get a different perspective.  My favorites are "BBC America" and "CBC" (Canadian) news programs.
In addition to keeping you current and knowing what people are concerned with, the news can provide you with many cutting edge sermon illustrations.  Look for them and if needed take notes.  You won't regret it.
"I tell you, no! But unless you repent, you too will all perish.  Or those eighteen who died when the tower in Siloam fell on them—do you think they were more guilty than all the others living in Jerusalem?  I tell you, no! But unless you repent, you too will all perish."  Luke 13:3-5 (NIV)