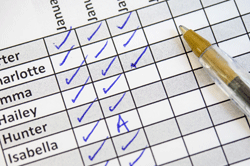 Some time ago my wife and I were trying to figure out the best way for us to take attendance at our worship meetings with the least hassle.  Our denominational District asks that we submit end-of-month averages for certain activities.  We had been using old-fashioned paper printouts for each individual month which had a checklist of names.  Check the box and you are done.  The problem is that the names would vary over the course of a year and even worse, the sheets would disappear at least once or twice a year.  Maybe someone got overly enthusiastic when cleaning up, or we took them to calculate the month-end statistics submission, but they were gone.  Each time something like this happened we would have to modify and reprint the sheets.
My wife tried using an Excel spreadsheet on her smartphone, but the software was pricey to get the full version and the free version was clunky.  Then I found a website that promised to solve all of my issues.  It was called "My Attendance Tracker" at http://www.myattendancetracker.com.  for the last two months I have been using this cloud-based software to track our attendance as an trial of sorts.
Here are my thoughts.  First, the software is a labor of love by a man whose wife is a teacher needing a quick and easy solution for her attendance tracking needs.  Signup is free, and you get access to the full version of the software.  If you like it, he asks you donate to 'the cause' whatever you feel the software is worth to you.  No nags, no spam.
Second, the software is cloud-based, so you have access on your phone, tablet, desktop PC or laptop, anywhere, anytime.
Third, the software is customizable.  You start out with 'classes' and 'pupils', but can easily change the categories to 'meetings' and 'people' or whatever you want.  It is easy to add people and assign them to meetings.  For instance, in my church we have everyone assigned by default to 'Sunday Worship', and we have a subset of those assigned to 'Prayer Meeting' and 'Caravan'.
Fourth, taking attendance is a breeze.  You sign in to your account, select a meeting and date (calendar is displayed) and the display will list all the people assigned to that meeting.  They will default to whatever you want in regards to present, absent or tardy.  For my purposes I removed the 'tardy' and have all people assigned to 'absent'.  Once your attendance screen loads you press a button beside each name for indicate their status.  I simply look around and press 'present' if I see them!this is done so quickly and easily that I can do it on my smartphone while a hymn is being sung during the service.
Fifth, there are a number of predefined reports available that cover much of what you would expect.  If you don't find what you need the program has the ability to easily define new reports.  At the end of the month I simply go to reports, select the one I want and set some options, then display the report.  I still have to calculate some averages but that is a minor inconvenience.  Either the report module lacks this or I have simply not found it yet.
I highly recommend you check out this site and software and see if it can help you.  In the end whatever best serves your needs and preferences is what you will use, but I think you will not be disappointed with what you find in "My Attendance Tracker".
"Teach us to number our days, that we may gain a heart of wisdom"  Psalms 90:12 (NIV)