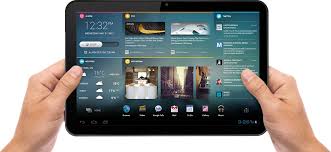 One of those interesting mental exercises we perform every so often involves the question, "If you were stranded on a desert island and could take only one <blank> with you…" .  Sometimes it is "book", sometimes a person, sometimes a tool.  So to expand on this, if you could have only one tech tool with you to help in your bivocational ministry, what would it be?  For the purposes of a bivocational pastor they should be portable, discreet and sufficiently broad in application as to make their use anywhere a possibility.  Here are a couple ideas to get you started.
A Smart Phone.  The smart phone, regardless of operating system, has to be the top contender for the title of most useful single tool for the bivocational pastor.  It is a veritable Swiss Army knife of  ministry tools.  I use my LG G3 phone (Android) to take notes during meetings, use it as a personal and church calendar, update the church website and post news and pictures to our Facebook site.  I also use it for email, take attendance using MyAttendanceTracker.com, read my daily devotions through Biblegateway.com, study for my sermon using online resources and listen to worship music in preparation for Sunday Worship.  I have been known to hook it up to our sound system to play prelude music for our Sunday service, and once I used it to play sound effects for a skit we were using during the morning service.  I have used it to locate addresses and get directions when doing visitation. Oh, yes, and I use it to send texts and make phone calls to our people!  The uses for a good smart phone are almost limitless in bivocational ministry.  It allows you to perform many ministry tasks almost without regard to time or location.
A tablet.  Many of the same functions that can performed on a phone can be done better on a tablet.  Reading is more comfortable on a tablet and with a good word processing package it is possible to use the tablet as a substitute for a laptop or a desktop PC.  Moreover, you can use your tablet to remote into a PC and have the full power of a Desktop PC available to you anywhere you can access a WiFi connection.  The one thing most tablets cannot do is be used like a phone to call and text people (caveat…some tablets CAN do these functions, but most do not).  For ease of use I recommend selecting a tablet of at least 10 inches, for portability you might want to select a 7 or 8 inch tablet.  I use both depending on circumstances.  For typing convenience equip it with a Bluetooth keyboard and cover with a stand.
These are my top two picks for tech tools.  Do you have others?  If so, please share your experience and choices!