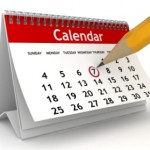 Around this time of year the typical pastor is getting eyeball deep into calendars.  First there is the personal calendar to take into account.  Second there is the work calendar.  Then there are the range of church calendars. Keeping them all in sync and with no conflicts can be a major hassle.  Add to that the fact that the public calendars need to be placed where people can get to them, such as on a website, and it is very easy to get overwhelmed.
I'd like to describe here one solution that I have found that works for me.  There are other ways to accomplish this task, but this one works.
First, I signed up for a Google account, giving me access to a number of tools.  One of those features is called 'Google Calendar'.  Once signed up with Google, I created three different calendars.  One for the church, one for me personally and one for my secular work.
Second, I put dates as appropriate in each calendar. So far, so good!
Thirdly, I use the code generated by Google to embed my church calendar into the HTML of the church calendar webpage.  Any events put into the church calendar are now visible to our congregation, and dynamically update as the calendar is changed.
Fourth, I downloaded the Google Calendar app onto my smartphone.  I have set up a home screen on my smartphone that displays only this app so I can get to my calendar by only flipping between home screens.  In setting the app up, I specify that it displays all three of my calendars.  This merges the dates on the calendars so that I can easily see what I have, and when, coordinating all three areas of my life.
Fifth…and this is where the magic comes in…when I update the church calendar from my phone the church calendar on the church website is automatically updated as well!
If this solution works for you, then I am glad to have helped.  If it doesn't work for you there are other solutions that can work just as well or better.  But in any case it is imperative that you get a handle on the issue or sooner or later you are going to find yourself scheduling a Board meeting when you were supposed to be at your child's school event.
I pray you had a wonderful Thanksgiving and are looking forward to a well-scheduled and conflict-free calendar of Christmas events…all filled with the presence of the Holy Spirit!