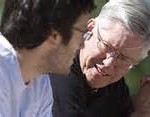 I am writing this on the Monday morning following the terrorist attacks in France and Beirut, along with the foiled attempt in Istanbul.  In recent days we have also had numerous school shootings and stabbings in the US.  Looking at the newspaper and news sources on the Internet it is possible to become overwhelmed with a sense of impending doom.  As a pastor I recognize this in myself, even as I have hope (i.e. biblically 'confident expectation' Click here for more study ) in Christ and know that He is still in control.  Looking around me, though, there are far more people who do not have this hope, and are left in confusion and despair.
This morning the principal of the High School addressed the students, staff and faculty concerning the attacks in Paris.  Although it was a nice gesture, hearing the Chamber Choir sing the National Anthem of France did not alleviate the fear and confusion many feel.  A discussion ensued among those around me as to why exactly these things happen in our world and what can be done to stop them.  It was at that time that it really hit home with me.  As a bivocational minister I am in a unique position to be able to minister to people as a 'Chaplain of the masses'.
My friends, colleagues and office mates know I am a pastor.   I have even performed a wedding for someone in the office. At times like this they look to me to provide a different perspective than they're getting from everyone else around them.  You, as well, as a bivocational pastor, will get the same kind of attention.  Even if you live in the Bible Belt there are many people who don't know who to look to, or where to ask their questions.  If they're not going to a church it is likely that they have little or no contact with a pastor in order to ask those questions.  They may very well look to you.
It doesn't need to be a world-shaking tragedy such as the attacks in France to raise questions.  Local events such as floods and tornadoes bring up questions; family illness, death of a loved one, divorce and job loss all can make a person seek out spiritual advice.  If you are close, known and have built a relationship with someone…they will likely turn to you.  Are you ready?  Can you fulfill this important role of a bivopastor?  There will be little or no warning when the time comes.  Take the words of Paul to Timothy to heart and 'be prepared in season and out of season'.
"Preach the word; be prepared in season and out of season; correct, rebuke and encourage—with great patience and careful instruction."  2 Tim 4:2