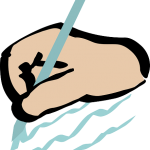 Years ago a friend and colleague of mine decided that we needed to have some regular and meaningful accountability in our lives.  Jeff and I were both church planters, both bivocational and both somewhat isolated from other ministerial contacts.  We began meeting weekly for prayer on Saturday mornings and added a series of questions that we would ask each other.  One of the first keys to a successful accountability relationship is to give each participant permission to ask the tough questions.  The second key is forgiveness.  And the third key is trust and confidentiality.   What is said between the participants stays between the two, unless it is something obviously illegal, in which case they need to resolve the situation in a likewise legal and ethical fashion.  So, all of that being said…here are the seven questions we asked each other every month and which we each carried printed and laminated in our wallets.
How has God blessed you this week?
What was your biggest disappointment this week?
Have you read God's Word consistently this week?  What has God been teaching you through reading and prayer?
How have you been tempted this week?  How did you respond?
How are your finances doing?
Have you put yourself in (or been put in by someone else) a vulnerable position this week?
How can I pray for you?
There you go…my hope and prayer is that these questions will be a starting point for your own accountability relationship.
"Therefore confess your sins to each other and pray for each other so that you may be healed. The prayer of a righteous person is powerful and effective." James 5:16