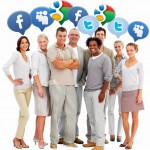 Of the many tools available for the bivocational pastor to use, the one that has the most potential for touching people and in a rapid fashion is Social Media.  "Social Media" is actually a catch-all term for various services that enable people to connect with others who have something in common.  These include Twitter, Instagram, Foursquare, Google Hangouts and the ultimate social media site, Facebook.  Depending on your preferences you can use something like Twitter to shoot out quick quotes, notes of encouragement to a group or news flashes.  Facebook and Hangouts offer a more diverse way to communicate.  The nicest thing about them from a bivo-pastor's perspective is that they are usually available as apps on your smartphone, so you can send out quick posts and comments from nearly anywhere and anytime. There are some guidelines to follow, though, which you would do well to remember.
1) Most social media is open and public.  By default many of the applications allow those outside your group to view your conversations and in some cases to comment on them.  Adjusting your security settings can help control this, so learn how to adjust them as soon as you can.
2)  Keep comments and posts brief.  This helps with readability and also helps avoid trolling (people seeking your site simply to say something to start an argument).  Think like a journalist…ask "Who", "What", "When" and "Where" and answer these questions right up front.
3) Keep it non-confrontational. Taking a stand on social media platforms will draw like-minded people to you, but will also push away those who may not share your views.  If winning people to Christ is important to you, you want to keep those very same people coming back! This does not mean compromising your stance on important issues, but it does mean being wise in how you communicate it; social media is not the place for heart-to-heart discussion, face to face is always better.
4) Limit your posts.  People want relevant posts, but probably no more than a couple times a week.  Your mileage may vary…ask a few people in your circles how much they want.  Some platforms with let you write a post and then schedule it for release at a certain day and time.
5) Make your post content real!  Don't simply forward internet memes. People want to see content that is meaningful to them, so be judicious.
6) Be careful of pictures.  Some people don't want their names and pictures shared with the world.  More importantly there may be situations in your context with legal implications.  In my congregation a few years ago we had a situation where we needed to keep several children out of the spotlight due to a pending divorce and custody proceedings.
7) Recognize the best ways to use the differing social media platforms.  Twitter is not Facebook.  Google Hangouts is not Instagram.  They were each built to do specific things.
Social media can be your best friend or worst enemy.  Don't be dazzled by the hype.  Use it in a way that glorifies God and brings people to Him.