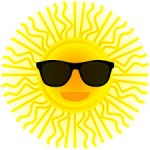 Summer is finally here; although the weather news from South Dakota today did include a blizzard the temps in New England are in the 70's.  We will take it!  It has been a long and arduous winter.  People are looking forward to getting out of school, some are graduating, others are planning vacations and weekend getaways.  Many churches will slow down their ministries or have certain ones that will completely stop until September (a mistake in my opinion).  The question I have for you today is relatively quick and simple.  As a bivocational minister, with summer here, what plans have you made to learn or do something that will have a positive effect on your ministry?
For your own personal and professional development there are many educational institutions offering accelerated summer courses.  Perhaps you can add one of these to your summer schedule.  If you are more of a hands-on person, would you consider a ministry project or a missions trip?  No time for these?  How about doing something to set your ministry up for success during the coming fall and winter seasons…research and schedule a sermon series, perhaps?
For your ministry, how about bringing a new piece of technology on board?  It could be as simple as setting up a Twitter account for your church or as complicated as integrating wi-fi into your building.  Perhaps you can concentrate on some of the physical maintenance issues you couldn't get to until the weather turned better.  Schedule an outreach event for the summer.  Maybe you can host a month-long, one-night-a-week movies series, complete with popcorn (and proper licensing of course!).
Summer is the ideal time to think about both your own personal improvement and the gearing up of ministries for the fall and winter.  Sunshine is burning…don;t let it go to waste!