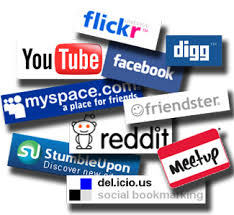 'Social Media' has become one of the hot topics over the last 10 years.  The Church has been said historically to seriously lag behind in tech innovation;  while that may be true the bivocational minister will find Social Media offers some unique opportunities to expand ministry.  Here are some ways you can start using social media for ministry today.
1)  Start a Facebook page for your church.  There are many voices today saying Facebook is on the way out, but even if it is, it still has a large user base.  Most likely a majority of your congregation have a Facebook page already.  The account is free, and has many useful features.  We use our page to announce and invite people to events, share pictures of significant happenings in the church and occasionally post links to articles of interest.  I even post quotes from the sermon the previous Sunday, so our people who attended have an extra learning point and those who did not attend have at least some idea of what was said.  Download the Facebook App onto your smartphone and you don't even have to be at your computer to conduct Facebook ministry!
2) Use texting (and email) to keep in touch with people. Want to remind people of an upcoming event?  Text'em!  Want to find out if Joe Cool is alright because he wasn't at church on Sunday?  Text'em!  Again, right from your smartphone.  No stamp required.
3) Use YouTube to post video excerpts from your worship service.  It is free and easier than a full-on podcast, although the free accounts limit the clip duration.  Put the link to your excerpts and channel on FaceBook and your church webpage.
4)  Need to make quick announcements?  Set up a Twitter account.  This is great for doing things like making weather-related announcements during winter, and for reaching targeted groups of people (separate groups for youth ministry, etc.).  You can send out a 'Scripture-a-Day' message, or short sermon quotes.
5)  Finally, a warning.  Social Media allows us to keep in daily contact with our people.  But sometimes that daily contact can be a hindrance as well.  I lost a family from my church because of things they posted on Facebook which were inappropriate; they were offended and left when I brought it up.  Sometimes a thick skin can be handy (sometimes it is better to let small matters pass and recognize that everyone is growing in Christ), as well as letting people know that their life during the week should match what they are saying on Sunday.  This one is difficult, but we all need to know the possibility and develop a plan  BEFORE we actually need it.
Paul says in Ephesians 5:16, "Be very careful, then, how you live—not as unwise but as wise, making the most of every opportunity, because the days are evil." Social Media…it can make a big difference in your ministry as a bivocational.  Make the most of the opportunities you have been given!  
BONUS:

 Free eBook from Chris Forbes  Click here –> Facebook For Pastors