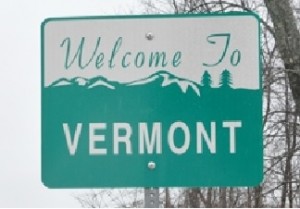 One of the questions that might be coming to mind as you visit this site is "Why the 'Welcome to Vermont' logo?".  Actually, there is a very good reason why this graphic is prominently displayed.
Around 1999 my wife and I were asked by Rev. Paul Willette, one of our District Church-planting Directors if we would consider a church planting situation in Vermont.  There were actually a couple of church planting pastorates which needed filling at that time in Vermont, and we gave consideration to each.  We felt led by God to accept an assignment to Milton, Vermont, knowing full well that the assignment would not only be bivocational, but that minimal support from the District would be available.  At that time we received a one-time grant of  somewhere around $6,000 in order to start the new work (fully returned to the District when we shut down the CTM seven years later). In order to pursue our calling in Vermont we had to have jobs outside the church, and buy a house.
Coming to Vermont from the Boston area was an eye-opening experience for us.  I find that much of it is symbolic of the bivocational experience in general.  First, we were coming to an unknown place, with challenges ahead.  Those entering into bivocational ministry are also entering unknown places with many challenges.  The good news is that where God leads, God provides!  When we came to Vermont we felt very literally that we were coming home.  I never, not once, got lost while driving in Vermont during those first few years.
Second, we found ourselves feeling disconnected.  Not from the people we served, but from our fellow ministers.  Historically we have had a once-a-month 'mission-area' prayer meeting.  The Vermont pastors would gather and pray.  Usually we were only blessed with about half or a third of those, however.  Most of us were bivocational and several had very long drives.  The entire District gathered once a year in Quincy, Mass at Eastern Nazarene College for District Assembly.  But for most of the District events we found ourselves too far away to participate.  Since our church was not in crisis, we almost never heard from District headquarters unless we initiated the contact.  We were not considered for District committee posts for the same reason (disclaimer: my wife was for a time the District Ministerial Studies Board Secretary because she could function in the role remotely).  Many bivocationals can relate to this feeling of disconnection.  Even those who are closer to the 'heartbeat' of their District or denominational hierarchy may feel a degree of separation.
Third, we felt as though we were on the front lines of a spiritual war with reinforcements in the far distance.  Three months after taking the faith leap of moving to Vermont I was laid off from my job.  Spiritual warfare.  We also found ourselves living in the heart of the most unchurched state in the USA.  People here are seeking, but skeptical to a degree found no where else.  The good news is, the harvest is white and workers are needed.  We are truly missionaries, despite how others might label us!  Bivocationals know that they are in the heart of ministry in ways that fully-funded pastors may never be.  They go to work each day and mingle with the unchurched, have spiritual conversations at lunch, in the warehouse and the school.  They live, work and play with the unchurched.  And because of this they have a credibility with people outside the church that could not be gained any other way.
Why "Welcome to Vermont"?  Because it says 'Bivocational' in a way little else can.  Welcome to real life!