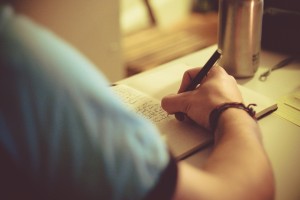 I recently found an article on sermon preparation for the bivocational pastor.  It contains some good tips and worthwhile instruction for those of us who have to fit sermon prep around the edges of secular work, ministry and family time.  I have linked it in the resource section for future reference, but here is the link for your convenience… Sermon Prep link.
This is an area many bivopastors struggle with, myself included.  With median time for sermon preparation in a recent study being about 13 hours, how are we supposed to fit that in without infringing on other important areas of life?
One clear area is finding the right tools to do the job.  I have found that BibleGateway.Com and the Olive Tree Study Bible (on my iPad) are invaluable.  For you the tools may be different, but these two in particular seem to streamline my preparation.  I can access these anywhere as long as I have my iPad and a WiFi connection, so I can work on sermons almost anywhere I find a free moment.  Find the tools you personally can work most easily with and stick to those.
The clear winner, though, is simply determining my preaching schedule ahead of time.  At a recent meeting of our "Mission Area" someone asked me how far out I planned my schedule and nearly died of shock when I told them it was planned out for a full calendar year!  Being planned out I can take into account church and secular holidays, holy seasons, mission emphases and other events.  It allows me to space out my preaching in a more unified approach than otherwise possible.  This does not mean I cannot change things at the last minute if something unexpected happens or the Holy Spirit tugs me in another direction, but the majority of my schedule is set.  I can begin looking for sermon illustrations a year in advance and putting them aside.  I can read resource material and commentaries, do research and find statistics, I can boil down a complicated subject into something the typical person in the pew will understand. One of the best books I have read on this topic is "Engage: A Guide to Creating Life-Transforming Worship Services" by Nelson Searcy (on Amazon here).  It is available on Kindle, Nook and in paperback.
What is YOUR best tip for sermon prep for the bivocational?